Lil' Kickers, a strong foundation…for life.
Lil' Kickers is more than just a great soccer program for kids. Our balanced and creative approach to coaching will have a positive impact on your child that goes far beyond the soccer field.  Our high-energy soccer classes are carefully designed to enhance your child's overall growth and well-being.  The result?  Kids with strong physical skills, who are well-balanced and confident.   And, we do all this while your child has the time of their life.
Our enrollment of more than 237,000 children nationwide have a blast when they come through our doors. Find out why by browsing the following sections.
Class Schedule - Class Descriptions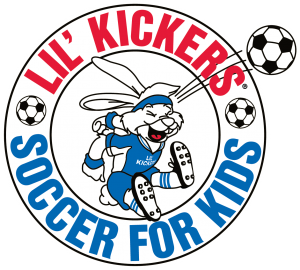 Program Description
Step onto the field during any Lil' Kickers class and you will find it transformed into a world created just for your child. Our well trained coaches will thrill your child with 50 minutes of highly creative, high energy and age-appropriate activities that serve as a great introduction to soccer, and help children master developmental milestones, appropriate for their age.
Because Lil' Kickers is first and foremost a child development program our purpose is really to help children mature on all levels. Our program focuses on helping children build a strong physical, intellectual and emotional skills that will help them be successful on and off the soccer field. We believe in teaching children in ways that suit their developmental level. So, you won't see adult-like skill drills in our classes, but you will see teaching methods specifically designed to create an atmosphere that is effective and fun. You will also see happy, confident and sweaty kids who are eager to learn and want to keep coming back for more.
Whether your child is new to soccer or has already developed a love for the game, the progressive nature of Lil' Kickers offers a place for children at every level. Our convenient class times provide families options to accommodate multiple children and busy schedules.
Come Play at Vacaville Indoor!
Lil' Kickers classes are available to children ages 18 months to 9 years. The Lil' Kickers curriculum was developed using renowned child development theory, so classes are tailored to specific ages and abilities, and can accommodate most children. And while we are always true to our theoretical roots, we are continually working to discover new ways to enhance the program.
Lil' Kickers coaches are trained in child development theory so they incorporate a developmental perspective when approaching children—always mindful of what children are capable of accomplishing at each age.

BUNNIES: (18 - 24 Months) Parent & Child Classes
Bunnies classes introduce toddlers to soccer with games that allow them to run, play as a group and kick a ball. They gain basic soccer skills while building fundamentals such as balance and coordination. Classes incorporate activities that are geared toward a toddler's unique way of learning and include parachutes, bubbles, noodles, cones, lots of goal scoring and more.
Classes are 50 minutes long.
The ratio for Bunnies classes is 15:1 with parents on the field.
Adult participation is required.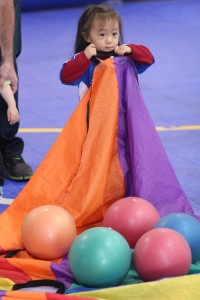 THUMPERS: (2 - 3 Years) Parent & Child Classes
Parents and kids, led by one of our instructors, play organized games together to develop listening skills, balance, ball skills and foot-eye coordination. Thumpers is the ideal next step for Bunnies veterans and a perfect introduction to Lil' Kickers for new players.
Classes are 50 minutes long.
The ratio for Thumpers classes is 12:1 with parents on the field.
Adult participation is required.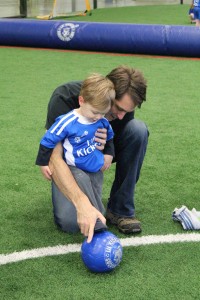 COTTONTAILS: (2.5 - 3.5 Years) Parent & Child Classes
Cottontails is a class designed for children who are ready for more of a challenge than a Thumpers class, but who are not quite ready to be on the field without a parent or caregiver. The Cottontails curriculum is designed to build fundamental skills such as balance, coordination, and ball kicking skills. Cottontails classes also offer another component—helping your child build a sense of independence. As children progress through the session and become ready for more independence, parents can choose to transition to a less active role in the class.

Classes are 50 minutes long.
The ratio for Cottontail classes is 7:1 (14:2) with parents on the field.
Adult participation is required.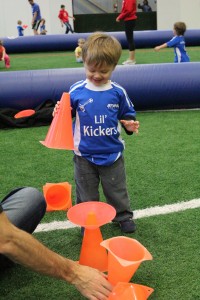 HOPPERS: (3 - 4 Years) Beginners
Hoppers classes are designed to be fun and fast paced. Classes focus on increasing balancing skills, coordination and fundamental soccer skills. We utilize creative games and help kids develop listening skills, cooperation and teamwork. Hoppers classes are the first class where children participate independently.
Classes are 50 minutes long.
The ratio for Hoppers classes is 7:1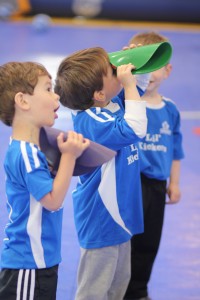 JACKRABBITS: (3 - 4 Years) Intermediate
Jackrabbits classes are designed to help transition children into non-competitive team play. Children play creative games to develop fundamental soccer skills and will also be introduced to more one-ball oriented games and scrimmaging. The focus of the scrimmages will be to help players understand how to apply skills in different situations and building teamwork. Some small sided non-competitive soccer games are introduced.

Classes are 50 minutes long.
The ratio for Jackrabbits classes is 7:1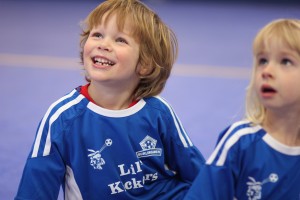 BIG FEET: (5 - 6 Years) Beginners
Big Feet classes are for five and six year-olds who have not played a lot of soccer before, or who respond better to a low-key environment. Classes build basic soccer skills (dribbling, passing, trapping, scoring) and develop a sense of confidence on the field. Players will also learn sportsmanship and team play. Some small-sided, yet non-competitive soccer games are played to enhance learning how to apply skills in game situations.

Classes are 50 minutes long.
The ratio for Big Feet classes is 12:1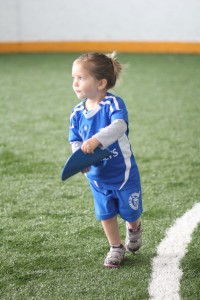 MICRO 4/5: (4 - 5 Years)
Micro 4/5 classes are for four and five year olds with previous soccer experience who are ready for more of a challenge. Players learn more advanced fundamental soccer skills through fun, age-appropriate and creative skill building games and have the opportunity to practice those skills in non-competitive scrimmages.
Micro 4/5 classes are 50 minutes with 15-20 minutes of instruction and 20-25 minutes of non-competitive scrimmaging.
The ratio for Micro 4/5 classes is 12:1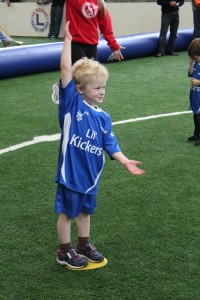 MICRO 6/7: (6 - 7 Years)
Micro 6/7 classes are for six and seven year olds with previous soccer experience who are ready for more of a challenge. Classes balance the use of fun games and technical drills with non-competitive scrimmaging to teach new skills each week.

Micro 6/7 classes are 50 minutes with 15-20 minutes of instruction and 20-25 minutes of non-competitive scrimmaging.
The ratio for Micro 6/7 classes is 12:1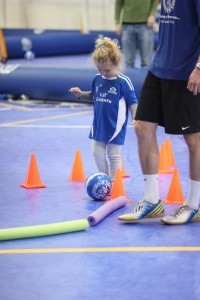 MICRO ADVANCED: (6 - 8 Years) Advanced Level
Designed to meet the needs of the more advanced players, Micro Advanced classes combine a small child-to-coach ratio with a challenging curriculum to create a rewarding soccer experience that is more clinical in nature. Children in these classes will be introduced to more complex soccer skills and tactics and will be given opportunities to practice these during scrimmages. The focus is more clinical but the classes continue to also emphasize fun and effort.

Classes are 50 minutes, once a week with 30 minutes of instruction and 20 minutes of scrimmage.
The child-to-coach ratio is 8:1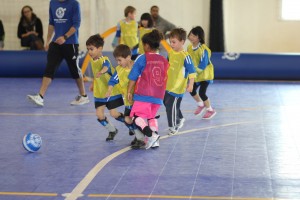 General Questions

Can I join a class in the middle of a session?
Yes! We offer open enrollment, so that you can join anytime and have your class fees prorated. This means that you pay only for the remaining class and not the full session fee.
What should my kids wear?
Participants should wear comfortable clothes and indoor soccer shoes (no cleats) or plain tennis shoes. Shinguards are needed for Micro Classes and Micro Advanced classes. Lil' Kicker uniforms are sometimes offered promotionally or are available for purchase. Outfitting your child in Lil' Kickers garb is a fun way to make your child feel part of a team.  Kids naturally appreciate looking like older uniformed kids and role models.  Plus a uniform gives kids a sense of belonging because they look like others on the team.
How many girls and boys are in each class?
Classes are co-ed, so the mix of boys and girls is based on who registers. If you have five or more players and we have enough field space, we are open to creating a special class for you with your requested mix of children.
What is the difference between a Hoppers and a Jackrabbits class?
Hoppers is a class for beginning 3 and 4 year olds that helps develop individual skills. Jackrabbits is an intermediate class between the Hoppers classes for total beginners and Micro classes for school age kids who have had previous experience.  In Jackrabbits, children play more one-ball oriented games to help them transition from individual skills to team skills. Some small-sided, non-competitive scrimmages are also introduced in Jackrabbits.
Do you provide all-girl classes?
Lil' Kickers is coed; however, if you have five or more girls and we have available field space, we are open to satisfying your request.
Do you offer private classes?
Subject to field availability, we are open to creating private classes for groups of five or more.  But please realize that individual training is not part of the Lil' Kickers program!
If I register my child for a session, are we "guaranteed" a spot in the next session?
No, all registrations are first come, first serve basis.
What kind of instructors do you have? Are they all licensed by some organization?
All Lil' Kickers Coaches are carefully screened to ensure we provide quality, child-centered, high energy instruction. Each Coach goes through a background check and a rigorous training process, which includes child development training. Instructors may or may not be U.S.S.F. licensed.
How come they don't play more soccer in this program?
While many soccer programs are busy using traditional soccer skill drills to drive home the fundamentals of soccer, we approach coaching from a child-centered perspective. Because of this perspective, we know that our main goal is to make learning fun for kids. We do this by putting instruction into a context children understand, using special techniques designed around how kids naturally learn. Lil' Kickers teaches your child the fundamentals of soccer, but focuses on developing the whole child. Our program helps develop social, emotional, and cognitive skills that result in our Lil Kickers becoming well-balanced and conscientious individuals on and off the soccer field.
Can I sign up online?
If you are a current customer, then you can register online through MySAM any time of the day or night!

Policy Questions

What if I can't make it to one of my classes?
You are allowed to make up any missed classes within the session in which you are enrolled, subject to space availability. We typically offer many other class times, so usually this is not a problem; however we cannot guarantee that space will be available. And note that you cannot carryover make-up classes into later sessions.
Can I drop my child off for class?
No, classes are 50 minutes and require a parent or guardian to be on-site.
Can I register my child for just one class?
No, but we do offer one free trial class to new customers to see if their children enjoy the Lil' Kickers experience.
Do I have to pay for the free trial class if I sign up?
No, the free trial class is discounted from the class fee paid when you sign up.
What is your policy for allowing children with special needs into your program?
Children with special needs are welcomed in our program as long as we are equipped to assist them accordingly. Please contact your our Lil' Kickers Coordinator for more information.
Can we pay as we go during the session?
The entire session must be paid in full at the time of registration. However, since we offer open enrollment, we do prorate class fees.
How many free trials can a child take?
The free trial policy is usually limited to one free class per child. However, in special circumstances a Lil' Kickers Coordinator may offer an additional free class to a child, particularly if it's been a long time since the last free trial class.
Can I get a Lil Kickers discount for both of my children?
Yes! We offer a sibling discount of $15.00 for each additional child registered.
Can I sign up for multiple days a week?
Yes, though you will need to register and pay for the additional class sessions separately. And don't forget that we offer a $15 session discount for any child who attends multiple classes per week.
Can we come on any day?
No, in order to maintain class ratios and consistency within the program, we schedule children for specific times and days. When registering, be sure to first determine which day best suits your schedule. Of course there may be an occasion when a make-up class is needed. In that situation, you can schedule a make-up class for any day in which class space is available. If your schedule changes during the session, and you need to switch days, we will try to accommodate your needs to the best of our ability. However, changes cannot be guaranteed and are based on space availability.

Program

What are 18 month old children going to do in the class?
Classes for this age group focus on building important basic skills such as balance and coordination. A variety of sensory activities such as blowing bubbles, playing with parachutes and noodles and building towers made out of cones are presented in a sequence that promotes skill development and cognitive mapping.
If my child is struggling in a class without parents on the field, such as Hoppers or Jackrabbits, is it okay for me to be on the field to help my child?
In this situation, we normally suggest placing the child in a Cottontails class. Cottontails classes are methodically structured and specifically designed to deal with a child's separation anxiety and to promote child autonomy. We have found that these classes provide a successful, long term solution for dealing with separation anxiety.
Why does the Micro Advance class cost more?
A higher level of specialized technical instruction is provided in Micro Advanced classes, and the value of this instruction is priced accordingly.

Classes

How long are classes?
Each of our classes lasts 50 minutes with a water break about half way through. Between classes there is a 10 minute break.
What are the child-to-Coach ratios for each class?
Ratios vary depending on several factors including the mobility of the children in the class, whether parents are participating in the class, and the level of technical instruction required. Here are the ratios for each class.*with parent participation
How long are your sessions?
We offer four (4) sessions a year that break down into approximately 13 week cycles.
Progression
If my daughter has a birthday during the session should she move up to the next class?
If your daughter is ready physically and emotionally, the option of moving up is always available, subject to the recommendation of a Coach. However, changing classes in midstream because of a birthday is unnecessary.
I think my son is advanced. Can he move up a level to the next class even if he's not old enough yet?
Yes, if it is appropriate for him both physically and emotionally. Our coaching staff will determine whether moving up is appropriate based on our experience with kids of similar age with similar abilities.
When is my child ready for a Micro Advanced class?
Micro Advanced classes are our most technically difficult classes. Players who have successfully completed Jackrabbits often are well suited to joining Micro Advanced 5-6. Players who have successfully completed Big Feet are often well suited to joining Micro Advanced 7-8. On occasion, players with no Lil' Kickers experience, but who have had significant experience playing elsewhere (unusual at this age) may move directly into a Micro Advanced class. In any case, advancement into a Micro Advanced class normally requires a Coach's recommendation.
When should my child move up to the next class?
Advancing to the next class really depends on the child and how they are doing in the current class. Our philosophy is that sports played at younger ages should be mainly about overall emotional and cognitive development and the social experience of playing in a group or on a team. The exercise and growth of a child's physical capabilities is of lesser importance; so prior to moving a child, we consider not just the child's physical needs, but also their emotional, cognitive and social needs. This approach helps create a successful learning environment for children who are ultimately well developed in all areas. Your child's Coach can help you evaluate and determine which class is most appropriate for you and your child's needs.
Even if my son is not old enough, can he be put in the same class with a sibling?
Our classes are developed to be age and skill appropriate, so normally siblings of different ages are not in the same class. However, if a younger child has advanced ability as determined by our coaching staff, then an exception may be made. Note that our class schedule normally offers classes for different ages at the same time, which often accommodates those families who want to simultaneously schedule their children's classes.
Can I make sure a specific child is not in my class?
If a child is well-suited for a given class, we will not otherwise restrict that child from that class. However, we normally offer several times and days for each class, so it shouldn't be difficult to personally schedule your child so that any unwanted pairing does not occur.
My child's coach last session was great! Can I request the same Coach again for the next session?
You can request a specific Coach; however your child's placement with that Coach will be first come, first serve, and determined by space available. So sign up early!
Please use this form to submit a request for more information. We will be happy to get back to you as soon as possible. Thank You.