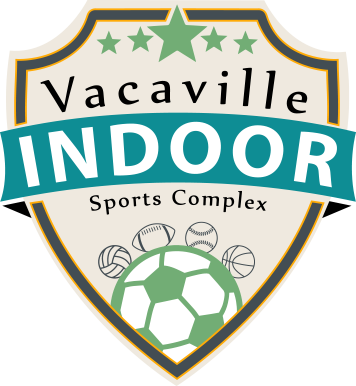 About Us
We are a multi-sport indoor facility located in Vacaville, CA featuring two large turf fields, a multi sport court, and workout room.

Our program lineup includes Adult Indoor Soccer, Youth Indoor Soccer, Lil Kickers, and Rookie Rugby. We are quickly moving towards the launch of our VISC Academy which will offer classes, camps, and clinics for all sports. We will also be launching Futsal and Flag Football in the near future.

Sign Up to get news and updates on what going on at Vacaville Indoor!

House Rules
1. GOOD SPORTSMANSHIP
Players, Coaches, and Spectators should conduct themselves in the spirit of good sportsmanship and fair play, whether on or off the field or court.
-No foul, abusive, racist, or derogatory language at any time.
-No violent or aggressive behavior at any time.
-Recreational Pace includes but is not limited to: casual friendly behavior, passing and working with beginners, giving beginners a chance to field the ball, teaching beginners the rules, "placement over power" shots on goal, and practicing quality controlled soccer.
2. KEEP IT SAFE
Play at your own risk, with safety for your fellow players in mind. The V.I.S.C. owners, operators, officials, and staff assume no liability for any injuries or accidents.
-No balls allowed outside the field! Please warm up without balls. Any balls being kicked around outside of the field will become property of VISC.
-Please watch the games from the designated viewing areas. No spectators are allowed in or around the player boxes or on the field at any time.
-No pets allowed in the facility at any time, with the exception of service animals.
3. KEEP IT CLEAN
This is your facility to use and enjoy. Please help us keep the fields in top shape, and the viewing areas ready for the fans coming in after you.
-No food, drinks, or gum allowed on the playing field.
-No spitting on the playing field or floors. If you must spit, do so in a garbage can. Anyone caught spitting on the field will be given a blue card (2 min penalty).
-No chewing tobacco, sunflower seeds, glass containers, or other similar products permitted in or around the facility, including the parking lot.
4. FAMILY FRIENDLY
Players, Coaches, and Spectators of all ages and skill levels should feel welcome and safe to join in the activities provided at V.I.S.C.
-Children must be under adult supervision at all times. It is not permitted for parents to drop off minors under the age of 16 for play or spectating.
-No alcohol or drugs may be brought into the facility at any time – including the parking lot.
-Anyone suspected of being under the influence of alcohol or drugs will be immediately ejected from the premises without refund.
5. ZERO TOLERANCE
Violations of the above guidelines will result in team time penalties, individual time penalties, forfeits, suspensions, and fines. Repeat offenders will be banned indefinitely.
Vacaville Indoor Sports Complex, its owners, operators, officials, and staff reserve the right to refuse service, play, or admission to the facility without refund to ensure the continued safety of its patrons and enforcement of these guidelines.

3777 Vaca Valley Pkwy Suite C
Vacaville, CA 95688
(707) 474-9629
Come Play at Vacaville Indoor!